Robin Mills¶
Background
Robin has a few miles on his tyres. He was born in Scotland in 1951 and, despite having worked in Finland for 7 years, Belgium for 3 years, and living in the United States for 15 years, still has a Scottish accent which baffles many folks! He's been happily married to Alison for more than 40 years. They met in High School in 1967 when the Beatles were in the charts. They have 2 grown up sons and 3 grand children. Both Alison and Robin are United States Citizens. Robin retired in 2014 and now lives in England. All contributors are welcome at Robin and Alison's beautiful house which is only 20 miles from Heathrow Airport.
Experience
Robin was a Senior Computer Scientist at Adobe Systems in San Jose, California. He worked on PostScript, ExtendScript, Acrobat Installers and his final role was Build Architect for Acrobat. Robin's core skill is C++, however he's worked on almost everything you can imagine over the years. He even gave a 5 minute "lightning" presentation about Exiv2 at PyCon2010 (Python Conference) in Atlanta, Georgia. http://clanmills.com/2010/PyCon/RobinPyCon2010.mov
Contribution
Robin joined the Exiv2 project in 2008 when it was a library for 32bit Linux. He has added support for MSVC (32bit, 64bit and CMake), MinGW, Cygwin and MacOS-X (32bit, 64bit, universal, ppc and intel). In 2014 he purchased a Mac Mini to run a Jenkins build server which builds/tests the trunk and selected branches when code is submitted. Jenkins builds on Mac, Linux, Cygwin, MinGW and MSVC using Virtual Machines. http://exiv2.dyndns.org:8080 Robin has dealt with hundreds of Forum queries and occasionally gives the correct answer. He's not an expert in metadata, the Exiv2 implementation, or the Exiv2 API, however he does his best to encourage users to adopt Exiv2 in their products.
Life and Fun
When he's not working on Exiv2, Robin also contributes to Sweet Home 3D - a Java based 3-D house modeling program. He's a runner and has managed his weight by running about 20 marathons in the last 10 years. He is an enthusiastic gardener and plays the piano. Robin loves digital photography and has published more than 50,000 photos on his web site. Robin and Alison are currently renovating their house which received little attention while they lived in California.
Robin's website is: http://clanmills.com and his resume/cv is here: http://clanmills.com/files/CV.pdf
Robin and grandson Jude at 5 weeks.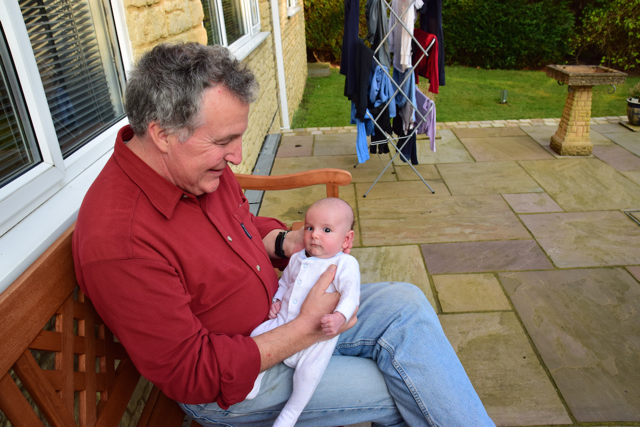 Updated by Robin Mills almost 6 years ago · 13 revisions